Fresher's Bazaar 29-September-2010
2010 Fresher's Bazaar is on the 29th September in the Space. Starts at 10am. See you all there! Let us know in class if you can help out!
September Class Times 01-September-2010
Date

Time
Relocated to
Reason for Relocation

Monday 6 & 13 September

6.30pm – 7.45pm*

Slight time change

Studio 4

Maintenance in the Sports Hall

Thursday 9 & 16 September

6.45pm – 8.15pm*

Slight time change

Studio 1

Maintenance in the Sports Hall

Sunday 5, 12 & 19 September
3.00pm – 4.30pm *

Slight time change

Studio 5

Maintenance in the Sports Hall
Demo at RNIB at Rosario youth club 28-October-2009
Students from Queens Taekwondo joined others from Rosetta and Saintfield clubs to put on a demonstration for RNIB at Rosario youth club.
The demonstration included lots of kicking, self-defence, sparring and of course breaking both wooden boards and concrete slabs.
Niall Dempsey, youth worker at RNIB, thanked everyone who gave up their time to put on such an exciting display. For those taking part it was an enjoyable if somewhat nerve-wracking opportunity to show off their skills.

Dan Grading Results 03-October-2009
Congratulations to Michelle De La Vega (our club president) for getting her 1st Dan.
Holiday Dinner 24-January-2009
2008 was yet another great year, and what did we do to celebrate? Indian at Archana! Lots of great food and only a little bit of alcohol (depending on what you mean by a "little bit"). It always fun to get to sit around for hours and enjoy the banter.
And boys...there will be revenge for the sexist comments. :p
Hopefully we will have some pictures to post of the evening before too long...
Firewalking? 31-October-2008
So does anyone else think it a bit strange that we would deside to walk on coals that are 500oC? But it was for a good cause! Damian, Eamon, Michelle and Tommy all decided to take the challenge. Together they raised nearly £800 for War on Want. Not too bad I would say. And, no, there were no injuries.
Queens Demo 23-September-2008
A few members of the Taekwondo Club got together and put on a small demonstration for Queens Students for Freshers Week. Self-defense, breaking techniques, patterns, and sparring were all performed. A number of people were watching and seemed to enjoy the demo.
Much thanks to Karl Oakes from the PEC for allowing us to have this event! And for clearing up the cement that Instructor Damian Duffy broke.
Tactical Edge Self-Defense Seminar 21-September-2008
Mark Davies from the UK came over for a day long seminar on close quarter combative techniques. It was open to everyone, and not just people from Taekwondo, though most of the people there were at least familiar with martial arts. It focused mostly on countermeasures for street attacks, attacks in closed areas (such as bars), and knife attacks. It's great to know what to do when you don't have enough room to kick your opponent or can't get out of the situation by running away.

It was a great, but exhausting class. So much to learn and practice. And I'm sure there were many sore bodies from being thrown to the ground so many times. Mine certainly was. :)
Thanks for Martin O'Callaghan and Trevor Ellison for putting this together. And we hope to sse Mark in the future again.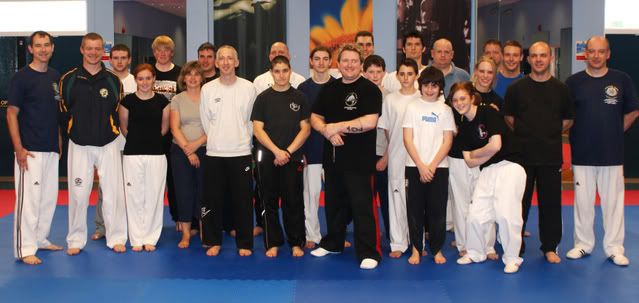 "
Portugal Open 01-July-2008
Gareth and Glen were at the Seixal Open in Portugal at the weekend. Although there were no wins in the Poomsae Gareth got a bronze in sparring. The score was 4-4 after three rounds in the semi-final and went to a golden point, which could have been scored either way. His opponent in this match was a member of the Portugese National team, who went on to beat an Australian 8-4 in the final. The Portugese coach had been watching Gareth in his earlier fights and complimented him on his ability.
Carryduff Poomsae Competition 01-July-2008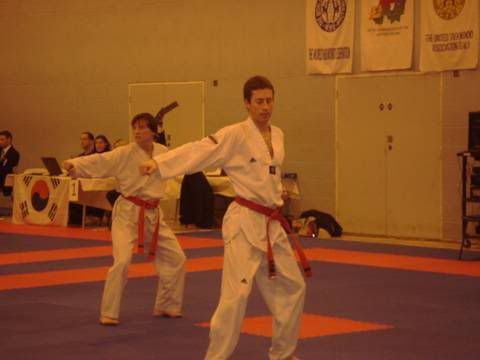 NI Junior Poomse Competition 14-June-2008
Once again Queens members were the backbone of judges and officials at this popular competition. Master Culbert was judging coordinator, looking after 20 international and national judges (including 6 from Queens), while Damian was tournament director, making sure that everything ran on time.

Visitors from both England and the south of Ireland commented on the smooth running of the event, something that just wouldn't have been possible without the help of Queens students playing their part in the community
Master Glen Culbert Awarded Coach of the Year 05-June-2008
Congratulations to Master Glen Culbert for receiving this year's Coach of the Year Award from the QUB Blues Committee. It is a well deserved prize. For years Master Culbert has put much of his free time in instructing classes at the PEC and is often there prior or after class to assist the members. He helps not only those who train for international competitions but also those who have just began taking TaeKwonDo and want to improve. This award just illustrates a small part of the thanks that we want to express to him for all his dedication.
UTA NI Black Belt Grading 24-May-2008
Much thanks to Grand Master Shin and our own Master Culbert for this season's Black Belt Grading, which took place at Carryduff Lough Moss Centre. It seems that the gradings are getting more difficult, but all those who graded gave it their all and did well.

And once again, Grand Master Shin focused on the basics like front and side kicks, low block and double knife hand strike, while paying close attention to their stances and the power they put into each technique. But of course, what grading would be complete without showing off these techniques in their poomse and demonstrating power with one-steps and sparring.

Congratulations to the following QUB members: Lisa Conlan and Gareth Lawson who achieved the grade of 1st Dan and Gareth White to 2nd Dan, and Michael Harkin, Christine Hawkins and Martin O'Callaghan to 3rd Dan.

The following day, these Black Belts joined others from UTA NI in completing the BTCB Poomse Judges Course instructed by Master Shin.
Lisa Art work 01-March-2008
Black tag Lisa Conlan, from Queens Taekwondo Club, Belfast, who is training hard towards her next grading in 2008, is also a fast rising artist. Lisa with her own distinctive style is gaining a strong reputation in the Northern Ireland art world. Her latest exhibition "Strength of Movement" contains many paintings which combine her love for art and Taekwondo.

Lisa raffled off one of her paintings at the opening of the exhibition and kindly donated the proceeds to UTA (NI).

Master Glen Culbert commented: "This money will help fund players travelling to compete at tournaments. I would like to thank Lisa for her generous gesture. It is great to see members of the club go above and beyond their expectations and help the whole association in their own unique ways."


UTA NI Black Belt Grading 08-October-2007
The weekend of 8th September saw the UTA (NI) Senior Kup and Black Belt Grading. Senior students from clubs from Northern Ireland and members from UTA in England gathered at Queens PEC to be examined by Grand Master T W Shin 8th Dan (Chief Instructor of the UTA) and Master Dave Bailey 6th Dan. After a one Hour written examination the time had come for the Physical test, during which the candidates where tested on all aspects of the syllabus - Stepping techniques, Hand, Foot techniques, Poomsae, 1 step self defence, sparring and Destruction. After a long afternoon on the mats finally the grading examination was over.

After a 30min break the results were announced. Master Bailey called out each successful candidate to the front of the dojang where Grand Master Shin then awarded them with their new grade.

A special mention goes to the Queens Candidates taking the Examination on the day, Gareth Lawson and James Gallagher who graded to 1st Kup.
Eamonn Hunt and Cyril Boudet (See Right) who both achieved the grade of Black Belt 1st Dan, Richard Robinson who Graded to 2nd Dan and Master Glen Culbert who was promoted from 5th Dan to the grade of 6th Dan Master.

Grand Master Shin praised all the hard work and dedication of all the seniors and instructors and said "I am delighted of the standard that was achieved; the UTA (NI) can only go from strength to strength as a result of this."

At 9.30am the next morning a senior poomsae and technical class was arranged at Rosetta Taekwondo club, where Grand Master Shin again put the black belts through their paces. It was a very enjoyable session, during which Master Shin gave us all the benefit of his considerable experience on developing our poomsae to international competition level.

The afternoon saw over 80 students from Northern Ireland, and students from Scotland and England, take part in a 3 hour seminar by Grand Master Shin and Master Bailey. All students were able to perfect their kicks, blocks, Poomsae and sparring techniques under the watchfully eyes of the Masters.

All too soon it was over and we were leaving to the airport. A special thank you to Grand Master Shin and Master Bailey who gave up their time so freely and we look forward to having them back in Belfast soon.